Traditional Homemade English Christmas Cake.  
Homemade Christmas Cake is definitely a "Seasonal Treat!" I have been making this Christmas cake for many, many years using an old traditional English recipe. Loaded with currants, raisins and Sultanas (Golden Raisins) this is not your typical fruit cake! Made in late September and allowed to mature until Christmas, this truly is a "Celebration" Cake! Ingredients: Currants, Raisins, Sultanas, Fresh Butter, Eggs, Slivered Almonds, Mixed Fruit, Orange Peel, Treacle (molasses), Flour, Brown Sugar, Spices, Brandy & Sherry.
We will be accepting 2018 Christmas Cake orders in September.
Cake wedges are hand cut and we endeavour to be as close to your requested size as possible! The whole cakes may vary slightly in weight due to the nature of baking … but will be very close to the weights stated.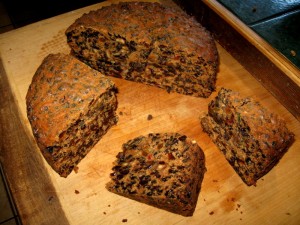 Whole Cakes or Wedges!
By the Pound Price: $15/ pound  (one pound minimum purchase) Whole Cake Price & Size: 5″ cake $30  (approx. weight 2 pound) 5.5″ cake $40  (approx. weight 3 pound)            6″ cake $46  (approx. weight 3.5 pound) 7″ cake $55  (approx. weight 4.5 pound) 8″ cake $70  (approx. weight 6+ pound)
Peanut Brittle.

Delicious Peanut Brittle packaged in an 8oz Gift Bag, 8oz Gift Box or Special Tin. Making this Peanut Brittle for the holidays has been a tradition in our home since Darrell and I were married back in 1987. Made in small batches using only the finest ingredients ensures freshness and quality! Packed full of Spanish Peanuts! Only made November through December! Ingredients: Raw Spanish Peanuts, Sugar, Water, Corn Syrup, Fresh Butter, Vanilla, Baking Soda. Prices: $10 / 8oz Gift Bag, $12 / 8oz Gift Box or $15 / 8oz Gift Tin (while supplies last!) Special orders welcome! We ONLY make our Peanut Brittle during the Holidays!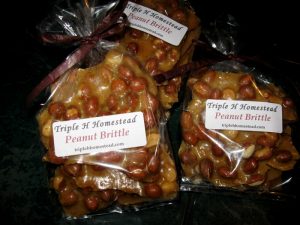 Gift Certificates!
Yes, we now have Gift Certificates! So easy to give and much appreciated!
Here are the simple steps to obtain your certificate:
Tell us the dollar amount you would like on your Certificate.
Give us your email address and we will send you the Certificate via an attachment.
Print it, fill it out and give to the recipient.
Gift Certificates may be redeemed for ANY of our products and are good for one year!