Gift Boxes for that special occasion!
 Gift boxes are easy to customize and we are happy to make a box up for you to the dollar amount of your choice! Will also create a "Care Package", a combination of all our products, mailing it to the recipient with a gift card attached.
Peanut Brittle Gift Box: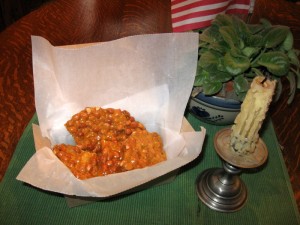 Our Peanut Brittle is made from only the finest ingredients: fresh butter, unsalted Spanish peanuts, sugar, real vanilla, corn syrup. Made in small batches to ensure freshness and great taste! Packed 8oz to a Gift Box, tied with a ribbon and a customized gift card attached. Only available during the holidays!
8oz Gift Box: $12         8oz Gift Bag: $10
Smoked Meat & Cheese Gift Boxes:
Our Salami, Summer Sausage and assorted cheese Gift Boxes may be custom made to suit your needs. Combinations of 8oz, 12oz or 16oz chunks of sausage with either 4oz or 8oz wedges of our cheese nestled in a gift box are available. Your choice of sausage and your choice of cheese… subject to availability…
8oz Summer Sausage or Salami with 4oz Cheese Gift Box $12
12oz Summer Sausage or Salami with 6oz Cheese Gift Box  $16
8oz Pepperoni, 8oz Summer Sausage or Salami, 4oz Cheese Gift Box  $20
8oz Pepperoni, 12oz Summer Sausage or Salami, 6oz cheese Gift Box  $25
Make your own Gift Box Assortment! Pick your size and flavour sausage, add in a chunk or cheese and a dollar for the gift box and you have a customized Gift Box! See our meat and cheese pages for sizes and prices.
Soap & Lotion Gift Boxes:
A soap and 4oz lotion sit nicely in a box plus a tub of our Beeswax Lip Balm fits in there too! Feel free to design your own soap and lotion gift box. Special Holiday Boxes with ribbon and gift card attached are available for Christmas, Valentine's Day, Birthdays, Anniversaries or just as a "Thank You". We will ship the Gift Box directly to that special person you want to surprise! 
Two Soap Gift Box  $10
Two Soap & Lip Balm Gift Box  $12
Soap & 4oz Lotion  $10
Soap, 4oz Lotion & Lip Balm Gift  $12
Your scent choice of our "UMED" or "Just Pure Soap" soap, lotion and lip balm.
We will ship our gift boxes to you or the person of your choice, holidays or any special occasion with a personal gift card.