Gift Boxes Always Available!
Handmade Soap, Lotions and other bath and body goods are made in small batches right here on the farm. I started making my own soap a few years ago when I was having a hard time finding a soap that was very gentle on my skin without all the chemical additives seen in commercial bars. The solution? Why make my own with natural oils and butters so I know what is in each bar of course! Thus my venture into the rewarding art of soap making! From soap making I branched out into making my own lotions and other bath and body products. There is something special in knowing exactly what we are putting on our bodies!
My soap makes a lovely lather, is excellent for sensitive skin and works great in hard water too! If you are in need of a special gift or birthday present, drop us a line to see what products we have available. I am happy to fix up a Soapy Gift Box for you and post it out with a gift card plus we now have Gift Certificates!
 ~~~~~
Browse through our pages to see all the different bath & body products we offer, we are happy to take special orders and on some items will happily customize them to your taste. We ship via USPS Priority Post and can ship these products Worldwide.

Handmade soap considerations:
For folks who are new to using handmade soap, here are a few things to keep in mind. Since our soap is made with as few ingredients as possible compared to the soaps you buy in stores, you will find it cannot tolerate sitting in a wet soap dish! To help your handmade soap last as long as possible, keep in a well-drained soap dish or rack and allow to dry between uses. If left standing in water or in a direct stream of water, the lifespan of the bar will be shortened. We now carry Red Alder and Poplar wooden soap racks made right here in Happy Valley Oregon! A perfect way to store your soap between uses.
Since I make our soap in small batches, there may be slight variations in each batch such as colour although I do try to be consistent! Some of our soaps do not contain any colourant at all and some are lightly coloured with natural Brazilian Clays. I use natural botanical additives and essential oils whenever possible and sometimes these ingredients can impart their own unique characteristics on the soaps. For example: any scent that contains vanilla may discolour to varying shades of brown over time – this does not in any way affect the quality of the soap.
Like a fine wine soap will improve with age, the older it is and the dryer it becomes the harder, longer lasting and better the soap will be.
On the following pages you will see our "UMED" soap bars which have become very popular as well as our new line of "Just Pure Soap" bars, no colouring, simple ingredients, some with the addition of Nature's Botanicals! We will continue to make our molded soaps for special occasions but some designs will be phased out. Special orders are welcome!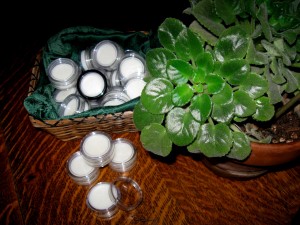 Our bath and body product line is always expanding as I experiment and try new ideas! Please check out all the pages under this heading to browse our most popular products as well as any "New Items" we have added.