6.25.17
Think it is a going to be a bit of a scorcher out there today. After a long, hot, mad dash to Scappoose and back yesterday to pick up a new truck… well new to us… we are exhausted this morning! The trip, all 520 miles of it, was uneventful. Leaving home at 5am we were sure there would be elk and deer galore to see, but barely any were spotted. The morning was glorious and even in the Columbia River Gorge there was little wind and just tiny white caps to be seen on the water. A delightful drive!
Purchasing a new vehicle is always such a huge headache, yes headache. The decision of "should we or shouldn't we?" The pros and cons of the different vehicles out there on the market, the exorbitant cost of a new vehicle which for us is definitely out of the question, the makes and models and hours trying to find the right one. It is an exhausting business! We had in mind what we wanted, the challenge comes in finding said vehicle that fits our criteria and is in the price range we can afford. So many of the trucks we looked at were jacked up so high I would need a step ladder to get in the cab, are a bright red colour and we greatly dislike red on a vehicle! Remember that lovely 1959 Chevy Impala Darrell bought? It was red and we could just not get used to it so it was promptly sold! The search seemed interminable!
Many are the times we decided to just stick with our old blue truck and drive it until the day it gave up the ghost. But with our luck, it would give up the ghost while pulling a loaded trailer up the Mitchell grade! No, it was time for a new, or I should say, newer vehicle. So the search began again and this time the vehicle that fit almost all our requirements popped up on the computer screen! Chatting back and forth with the owner we felt this was indeed the truck for us. A deal was struck and yesterday we made the jaunt to pick up our new workhorse for the farm! Of course it has a few bells and whistles that are a tad superfluous for a farm truck… such as heated seats and a 6 disc CD sound system… but as the lovely lady who sold it to us said, in no time at all we would wonder how we ever got by without such things! I will take her word for it.
It is funny though, with these "newer" vehicles, newer as in they are not old classic Chevy's, I never seem to have the inclination to name them. They are generally known as "The Blue Truck", "The Little Truck" or now "The New Truck". Old cars however immediately seem to garner nomenclature; "Nessie", Pearl", Morris", "Scorcher" for example. Wonder why that is? There is just something quite special about those old cars I think, a grace or grandeur, timelessness, solidness, a glimpse of days gone by. All which make it easier to make such vehicles more "human".
As Darrell and I drove up past Portland on our way to Scappoose we thought about the cars we have. Scorcher, Darrell's 1958 Chevrolet Impala, is in the paint and body shop at this moment awaiting painting to restore him to his gleaming white. Nessie sits patiently in the arena, sad and yet stoically resigned looking as she waits her turn for some TLC. I am determined to save up my money in order to have her roof and boot repaired, maybe a new coat of paint in order to bring her back to her former glory… she is not forgotten! Since Scorcher went off to John Day, Pearl resides in the garage now. She is currently hoisted up in the air so I can crawl under her, most likely later today, in order to work on adjusting her brakes with Darrell's expert guidance. A week ago I finally think I may have found, and hopefully fixed, her penchant for running away! My removal of her accelerator rod and linkage, replacing a missing grommet, adjusting things here and there then a good cleaning of her rather dirty carburetor seems to have fixed the issue. Now I need to inspect her brakes, discovering whether a mere adjustment is required or maybe total replacement of her brakes is in order.
I love these old cars… can you tell? It would be so easy to forego some of the other chores and projects that keep us busy in order to devote more time tinkering with these old jalopies. But alas, such tinkering requires funds and money does not grow on trees! Besides, what fun it is to look forward to my next session of working on Pearl. Having a project car to restore is in itself a rewarding enterprise, but actually doing all the work oneself is tremendously satisfying. Thank goodness I have my Darrell beside me who supports and encourages this odd bent of mine! I am sure at times he gets exasperated with me when I insist on doing everything little thing myself, but he is patient and a grand teacher!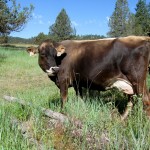 Well, Lass is out there, noisily reminding me I need to get cracking on my morning milking chores. Water needs to be turned on in the garden, chicks and pigs and calves to be fed, then after a leisurely breakfast it will be off to the garage for a spot of tinkering on Pearl. A good Sunday morning is off to a grand start!