8.13.17
How lovely it was to wake up this morning to the very soft sound of rain pattering down on the roof and deck. After what seems an interminable age without the slightest bit of moisture direct from Mother Nature, this soft drizzle was much appreciated. Last evening, Darrell and I sat on the front deck as some huge raindrops splashed down. We were in hopes of a downpour but instead got just enough to make some dark splotched areas on the deck's parched wood. A brief spattering and it was over.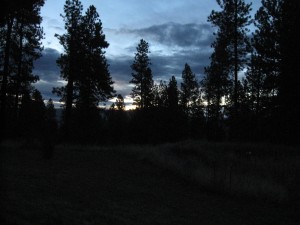 This time of year, any moisture falling from the sky is very welcome. Fire is our greatest fear so as we watch the clouds building we have mixed feelings, will we get some much needed rain or will those clouds bring only thunder and lightning? Thankfully for us we were spared lightning although the huge rumblings meant someone was feeling the brunt of the storm nearby.
It really is quite amazing what a natural watering from Mother Nature does to one's garden. Despite being diligently dampened on a regular basis with water from our well via hosepipes and sprinklers, the plants seem to relish the "true" dampening coming from the skies up above. They seem to grow almost before one's eyes and instantly flourish. I am sure our corn and sunflowers sprout inches immediately after a rain and the weeds, well they just go right to town! Yes, nothing beats a natural soaking.
I had to smile yesterday morning. We have a family from Portland visiting us this weekend, dad and his twin 11-year-old children. As we all went down to the lower farmyard to feed Lass and the pigs, a few large raindrops started to spatter down. In the 70 plus degree warmth of the morning I relished the droplets falling on my face and shoulders, this to me was a treat! The youngsters however, pulled up their sweatshirt hoods and eventually headed for dryness of the bunkhouse until the brief shower was over. I too may have done just the same at one time in my life, now, during summer's drought, I relish the slightest moisture coming from above.
This summer has been quite brutal as far as hot weather goes. Our chickens are showing their displeasure by cutting back on egg production, Lass too is down on her milk although still giving up nearly 5 gallons a day for me plus some for her calf as well so I cannot complain. But in this heat she is more content to find a shady tree to lie under rather than head out the back to forage. Trying to get as much done in the coolness of the early mornings as possible is the name of the game for us for by noon the heat is driving us to find a shady spot. This whole year has been a bit of a muddle as far as temperatures go. The wild and wooly winter was followed by a very wet spring which just as Darrell predicted, turned off into a blazing hot summer. Not to wish our lives away, but we are looking forward to some slightly cooler and damper weather! It is just too dry out here!
Of course before much longer we will be inundated with people in our little community as the great extravaganza, the solar eclipse, will see a huge swath of Oregon swamped with people from all over the globe. We in Monument, as well as other towns in Grant County, are in the "Path of Totality". As such, we are preparing for an influx of visitors the likes of which we have never seen. If only half the number of people show up that are expected, we will still find resources stretched to the limit! With only a week to go until the celestial event, people are on edge wondering what to expect. Some landowners are hosting huge numbers of eclipse viewers, opening up their fields and sectioning off camping spots to take advantage of the flood of people looking for a place to watch the sky. Eclipse mania is upon us! For ourselves, we are content to have a lovely family from down in California return to stay with us. Two years ago they were here for a family reunion and at that time booked our bunkhouse for this event, which to tell you the truth I had no inkling of at the time! They and a photographer lady from the Seattle area are the only ones who will be staying at our farm, which is perfectly fine for us!
Let us all hope those folks who are planning on coming to our little part of the world to view this celestial event will treat our lands with kindness and consideration. May they come and enjoy our beautiful area, leave no fires behind them and return home safe and sound.